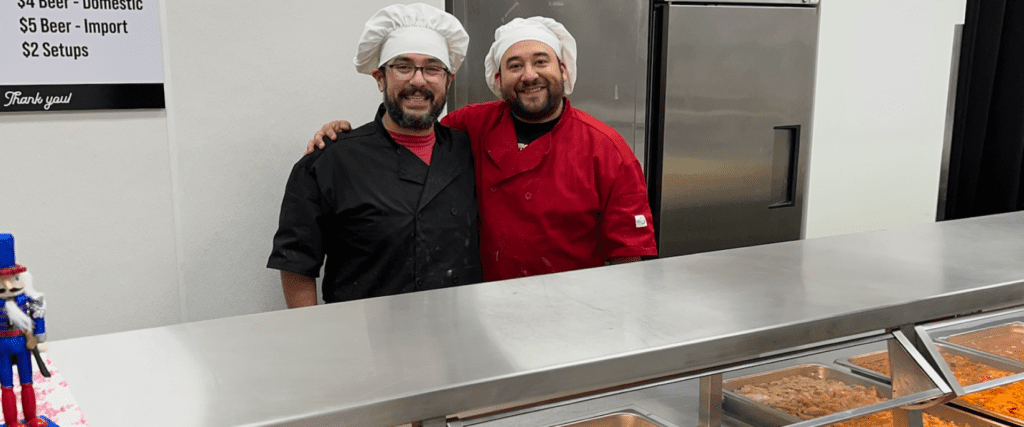 Texas Sugar Daddies Opens Café
We're just two dads, best friends, and foodies who decided to join forces to do something different. 
By day we were housed in cubicles working for the man, by night we were renegade foodies stirring up epic bites our wives and kids couldn't get enough of… which led us to create Texas Sugar Daddies.
We launched in 2017 as an online, home-based bakery with incredible support from our San Antonio community. In 2020 we were forced to take a break due to COVID and tragic losses that impacted both of our families.
After a two-year hiatus, we re-launched Texas Sugar Daddies with a new passion and goals. After recalibrating our business and taking the leap into the unknown we moved from our home-based bakery into a commercial kitchen, brick-and-mortar business!
We are excited to have a location on the Blessed Sacrament Academy campus on Mission Road in Building 9. The Sisters of the Incarnate Word at Blessed Sacrament Academy (BSA) bestowed a blessing on our families by providing access to their campus commercial kitchen and dining hall.
In October 2022 we moved into our new space, re-launched our bakery, and started working towards offering catering with a goal of managing the dining hall rentals and opening a weekday cafe.
After four months, in February 2023, with the support of the Sisters of BSA, we successfully began managing hall rentals for events and launched our weekday lunchtime cafe! As a part of our mission to support our community, a portion of sales are donated to Blessed Sacrament and Por Vida Academies.
We have big goals to expand and continue to support the impactful work the Sisters are doing at BSA and our Southside community. On behalf of our families, THANK YOU for supporting our local business and for making our dreams come true.
Book your special event at our event venue, and order catering, or custom sweet treats. We do it all! Thanks for checking us out, we look forward to becoming your Texas Sugar Daddies for all occasions.